Architects and designers face continually tightening energy provisions when it comes to designing commercial buildings. The challenge is to create beautiful, functional spaces which achieve compliance, deliver energy efficiency and ensure comfort for occupants. ThermalHEART™ thermally broken window and doors systems enable you to do just that.
Big Windows Are Back
Windows bring so much to our buildings: natural light, connection with the outdoors, ventilation and a sense of space. ThermalHEART™ thermally broken window systems ensure windows can continue to play an important role in energy-efficient commercial buildings. Often a site will have a less-than-perfect orientation, clients may want large expanses of glazing facing a spectacular view or prominent street frontage. In many cases, a lack of thermally efficient window systems has forced architects and designers to alter designs, and reduce or eliminate windows, just to meet the energy provisions. ThermalHEART™ thermally broken aluminium windows are the answer. Big windows are back. You can incorporate large expanses of glazing using thermally broken aluminium window systems and still comply with stringent energy provisions. ThermalHEART™ window and door systems helps you create wonderful, comfortable environments for occupants which deliver all the benefits big windows bring and manage the issues of thermal conductivity and insulation.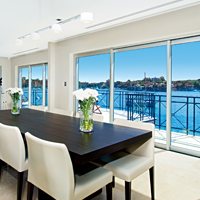 ---
Clean Bold Lines
At AWS we recognise that aluminum window and door systems need to be simple and stylish. We work hard to design our systems so they will blend seamlessly into a commercial project, offering architects a simple style platform which will not look out of context in their projects.

ThermalHEART™ systems are designed to deliver a clean, bold aesthetic. To ensure a simple, unobtrusive style, frames are free of grooves or ridges, hardware has been carefully thought out and ingeniously fitted, and minimal radii have been applied to profiles.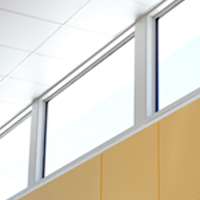 ---
Dual Colour Technology
To achieve excellent thermal performance, ThermalHEART™ thermally broken aluminium window and door systems incorporate an innovative polyamide insulator strip which separates the internal and external elements of the extrusion. The way the thermal insulator is joined allows for a different choice of finish, to complement both internal and external finish palettes. The result? One finish on the outside, another on the inside, and unprecedented colour flexibility. Architects and designers can now select the strong, bold, dark colours which feature prominently on commercial building exteriors, and opt for lighter, more neutral tones on the building's interior.

LEARN MORE