All Elevate™ Aluminium Systems are WERS rated. We take great pride in offering you and extensive range of glass and framing combinations to ensure you have all the information you need to make an informed decision regarding the energy efficiency of your windows and doors.
Window Selection for Different Climate Zones
The BCA defines eight climate zones for thermal design within Australia. These zones are loosely represented in the illustration below. To contribute to the creation of efficient and comfortable buildings the selection criteria for windows and doors in each of these zones will vary.
In all cases climate and orientation should be considered when selecting windows and doors. To assist in your understanding of the factors likely to influence the selection of windows and doors in different climate zones we have provided some simple guides for window selection in warm, cool and mixed climates.
| ZONE | DESCRIPTION |
| --- | --- |
| 1 | High humid summer, warm winter |
| 2 | Warm humid summer, mild winter |
| 3 | Hot dry summer, warm winter |
| 4 | Hot dry summer, cool winter |
| 5 | Warm temperate |
| 6 | Mild temperate |
| 7 | Cool temperate |
| 8 | Alpine |
This information is provided as an indication only. For detailed notes on BCA climate zones please refer to the latest BCA document.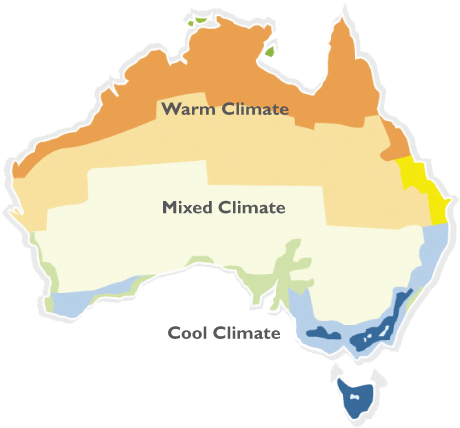 Warm Climate

BCA Climate Zones 1,2 & 3
Include areas such as Northern Australia, Darwin and Brisbane
Overview

Outside air temperature is typically warm and energy is often expended on cooling the building. Goal is to keep unwanted heat out of the building to minimise the need for air conditioning and reduce energy usage. Windows and doors which offer good solar protection and can minimize solar heat gain are ideal in this environment – that is windows with a low SHGC value. Their role is particularly important on east and west facing windows or windows which are un-shaded. The U-Value of the window is also important, if air-conditioning is used a window with good insulating properties will assist here – that is one with a low U-Value.

Considerations:

Keep solar radiation out & retain the coolness of air-conditioned air

Prefered U-Value:

Low

Preferred SHGC:

Low

Other factors:

Windows with large open able areas to facilitate cross flow ventilation will be advantageous in these climates

Suitable Glass Types:

Tinted, High Performance Tinted, Tinted LowE, Tinted IGU LowE
Mixed Climate

BCA Climate Zones 4 ∓ 5
These climate zones include areas such as Sydney, Perth and Adelaide
Overview

A mixed climate is one in which the outside air temperature may vary significantly between winter and summer and energy is expended on heating and cooling the home. In a mixed climate the goal is to stop heat entering the home in summer and reduce heat escaping from the home in winter. In these environments windows which offer a good balance between U-Value and SHGC are required. Careful glass selection subject to aspect and elevation can also help to achieve a good result in this climate.

Considerations:

Balance the benefits of solar heat gain in winter over keeping the building cool in summer and insulate against heat transfer throughout the year

Prefered U-Value:

Low

Preferred SHGC:

Mid Range (or ideally selected by elevation)

Other factors:

Season specific shading on windows will help to optimise performance and comfort in these climate zones. Windows with openable areas to facilitate cross flow ventilation will be advantageous in these climates

Suitable Glass Types:

Tint, Tint + Clear LowE, Tint + Clear IGU, Tint + Clear LowE IGU
Cool Climate

BCA Climate Zones 6,7 & 8
These climate zones include most of VIC, ACT and TAS as well as parts of southern NSW
Overview

A cool climate is one in which the outside air temperature is typically cool and energy is often expended on heating the home. In a cool climate the goal is to retain heat within the home and maximise the input of solar energy in cooler months. This will help to minimize the need for heating and reduce your energy usage. Windows and doors which offer good insulating properties to minimise heat loss are ideal in this environment – that is windows with a low U-Value. Windows should also have a high SHGC to maximise the use of free solar energy to heat the home. Double glazed windows with low-E coatings are ideal in these environments.

Considerations:

Maximise desirable solar heat gain for most of the year and Insulate against heat transfer throughout the year

Prefered U-Value:

Low

Preferred SHGC:

High (or ideally selected by elevation)

Other factors:

Season specific shading on windows will help to optimise performance and comfort in these climate zones

Suitable Glass Types:

Clear LowE, Clear IGU, Clear LowE IGU